Housing and women's equality — Pre-election webinar to mark International Women's Day 2022
7 March 2022 @ 12:00 PM

-

1:15 PM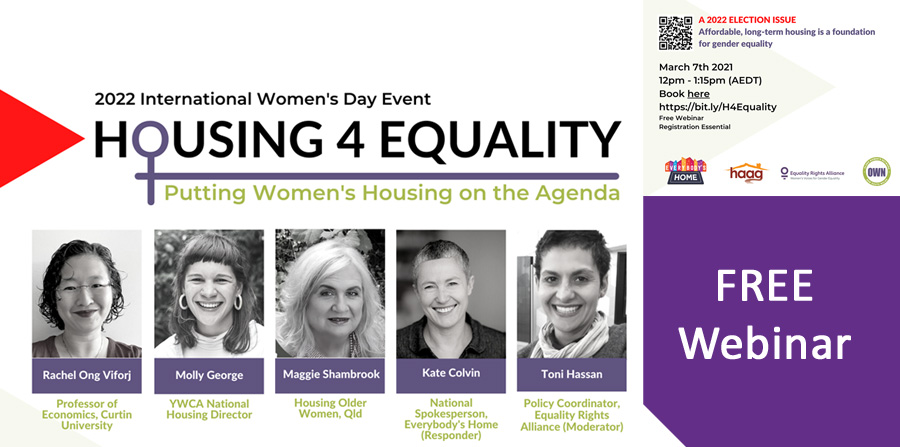 NCWA partner, Equality Rights Alliance (ERA) are excited to be hosting a March 7 webinar – with ERA colleagues at the Older Women's Network, YWCA Australia and the Everybody's Home campaign. We'd love to have you along for an important conversation.
The panel discussion brings together intergenerational voices to put housing on the agenda and help mark International Women's Day 2022. Contributors include Maggie Shambrook, Kate Colvin and academic Rachel Ong ViforJ.
About the event
With over 400,000 women over the age of 45 at risk of homelessness, the provision of affordable, long-term housing for women is vital to prevent even more older women from falling into homelessness. On the other hand, younger women are finding it more difficult to secure a foothold in the Australian dream of owning a home.
This situation has to change, and with the upcoming federal election, now is the time to understand the connection between housing and gender equality; and why without affordable, long-term housing, women will continue to lag behind.
Join the following panellists as they discuss the issues, both from the personal to the policy level.
(i) Maggie Shambrook, Housing Older Women, Qld
(ii) Molly George, YWCA National Housing Director
(iii) Rachel Ong Viforj, Professor of Economics, Curtin University
Responder:  Kate Colvin, National Spokesperson, Everybody's Home
Moderator: Toni Hassan, Equality Rights Alliance
Details
WEBINAR
Date: Monday, 7 March
Time: 12 MIDDAY to 1:15pm AEDT
Cost: Free to register
Register
Free to register
More Information
For more information and to register, check out the event page